the journey of a letter (two)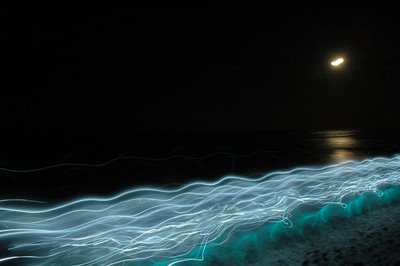 Dear Peter,
I know that you are very very tired now. Maybe too tired to read, so you & Sally are together and she is reading this aloud to you. You know how much I love you two, my dear friends, and I wish I could be there right now to spend time with you – to be present, with compassion and love, to keep you company & to be together. You are always in my heart Peter. That may sound corny but it is true! Maybe because I live so far away I always carry this lifetime of experiences, moments, memories with me – so for us it is folk mass (long ago), catching up in the driveway, sitting at the kitchen table, walking our dogs, the hole in the hedge between our houses --- the little moments, the Big moments. I kept the wrapper from the Stollen cake you brought me last Christmas – here – wrapping your letter- because it makes me smile – you make me smile Peter! Thank you for being my friend – I cherish our friendship always.
I found something recently while walking the dog at Half Moon Bay – the beach we walked when you came to visit – yes in August I was walking and when I came up from the beach I stopped with the dog to take my shoe off & dump the sand out. When I leaned on the fence post to stabilize myself, I saw this stone cross inside the fence post – someone left it there.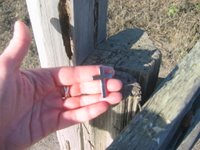 I don't always know why I find things but I
CAN
recognize their significance – things stick out to me and sometimes they really do
STICK OUT
, as in this case! I thought you might like to have it now you know the story and how it reminds me of you, of us, of our walk there – our day together. The stone – I forget what kind it is – it as a nice feel to it and a little weight, feels good in the hand, if you hold it.
I have enclosed some photos from my
Florida walk
in April – when I jumped out of a plane & walked 24 miles by myself in the dark on the Canaveral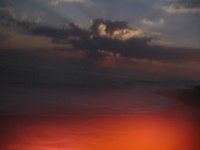 National Seashore. It was grueling, exhausting, difficult, and at the same time, enlightening. When I was really really tired and maybe a bit concerned about being washed away to sea or stopping and not getting up all by myself, I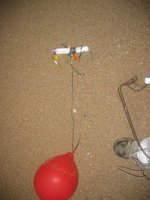 found a
letter
on the small strip of beach, at my feet while walking, it was tied to a balloon and the wind carried it hundreds of miles then it washed up on the shore at my feet, and I found it in the dark! It made me so happy to know there was communication from a stranger, that this synchronicity happened. I was so tired I could not break the plastic string to open the letter while I was walking in the night but I tied the balloon to my backpack and it knocked around keeping my company. Also, the moon was near full and cast my shadow ahead of me in the sand as I walked. I could now see the shadow of the balloon cast in front of me as well – it really cheered me up and I didn't feel so alone on my exhausting journey.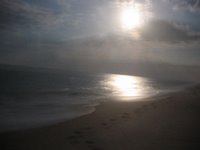 I hope this letter cheers you up like the one I found on the beach – and like the balloon I may not be in your direct line of sight but you know I'm with you wherever your journey takes you.
I love you very much Peter – I know you know that!
I will be home Friday ----
Labels: death, fabulous, letter, love, mail, memory, moon, night, ocean, sea, walk