Running Horse : trouble staying on track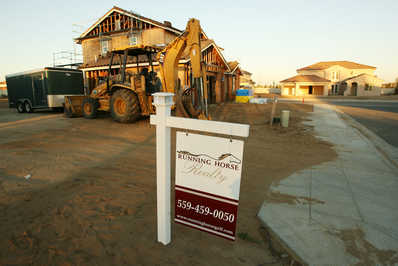 Running Horse has trouble staying on track
Hopes for development to spark more interest in southwest Fresno fading.

by George Hostetter and Sanford Nax / The Fresno Bee
photo: Craig Kohlruss / The Fresno Bee
22 October 2006
A sobering reality has settled over the proposed Running Horse residential and golf course project in southwest Fresno.
Gone is the lofty talk of the past four years that marked much of the public discussion about Tom O'Meara's master-planned community, which proposes 780 upscale houses bordering a Jack Nicklaus-designed golf course.
It's a project that has fueled hope by many city and community leaders that Running Horse will spark developer interest in the city's historic but long-neglected southwest side.
"O'Meara sees diamonds where others see dirt," said Fred Burkhardt, then the city's director of housing, economic and community development, in 2003.
But recent financial and legal problems at Running Horse have cooled the rhetoric, even from O'Meara.
"This is not fun," he said. "This is a business."
No houses have been built, nor has a home builder been selected by Running Horse officials. Construction work on the project has all but stopped — in part, O'Meara said, because the crews need a rest. And money problems have slowed the progress of O'Meara's adjacent Kearney Estates residential subdivision, which is separate from Running Horse.
"It will be a travesty if [Running Horse] doesn't succeed," said Keith Kelley, president of the Fresno West Coalition for Economic Development. "But all hope is not lost."
Only two of the Running Horse course's 18 holes have grass. On Tuesday, a Florida-based official with the Professional Golfers' Association Tour visited two Fresno-area golf courses to see whether they might serve as substitute sites for a $4.5 million tournament scheduled for next October at Running Horse. Tournament officials said they're optimistic that Running Horse will be ready but want a backup course just in case.
O'Meara also acknowledged that Running Horse is negotiating a loan of about $60million to keep the project going. Another option is selling parts or all of the project, he said.
There are other challenges:
More than $3.7 million in contractors' liens have been filed at the Fresno County Recorder's Office against Running Horse or companies contracted by Running Horse. These liens mean a business contends it hasn't been paid for work on the project.
O'Meara said the liens are a routine legal step that he encouraged contractors to take if it made them feel secure while he settles his cash-flow problems.
Routine, though, is a matter of perspective. Emmett's Excavation Inc. of Clovis filed a $1.5 million lien for work it did at Running Horse dating to 2005. Said company Vice President Lucretia Emmett: "It's an awful lot of money to be without."
Two lawsuits were filed against Running Horse in 2005 alleging that the project's partners agreed to sell all or substantial portions of the project to two different buyers at the same time. One lawsuit was recently settled in a confidential agreement, according to Fresno County Superior Court records. The other could go to trial in May, O'Meara said.
Many of the homes at Kearney Estates, the nearby 58-house project started by Running Horse, sit vacant or partially built. Running Horse sold the lots, and buyers contracted with other companies to build the houses.
Darryl Bowen, 64, said he is happy to be living in Kearney Estates, even though construction of his home took many months longer than promised: "But I wouldn't do it again."
Matt Estes, 43, has moved into his Kearney Estates home, but said he's still trying to get some construction problems fixed: "If everything was done, I'd be a lot happier."
O'Meara is a 1969 graduate of California State University, Fresno, who has more than 25 years of real estate development experience, including work on several golf course projects.
Contractors, subcontractors and lenders will be paid, he said. The course will be ready for the golf tournament. Houses will get built.
"I'm here every day," O'Meara said while sitting in the portable building on the corner of Hughes and Whites Bridge avenues that serves as Running Horse's headquarters. "I'm not going anywhere. I take all phone calls.
"I tell people: We're going to resolve it."
But how? And what went wrong?
The simple answer: money.
A loan of nearly $60 million is ready to be signed, O'Meara said, declining to reveal the lender. The money, among other things, would finish the golf course, pay off the liens and refinance current loans, he said.
Two other key steps are naming a builder for the first of the residential project's three phases, the 228-lot section called Cypress, and starting work on the golf course's clubhouse.
But rather than take the loan, O'Meara said he'd prefer to tap money put into escrow by people who have bought 208 lots in Cypress.
O'Meara said lots in Cypress are selling for $150,000 to $250,000 each. Lots in the other two phases — Augusta and Masters — could sell for $300,000 or more, he said.
But Running Horse still hasn't filed what's called a final map for Cypress with the city Planning Department. Until that step is taken, and O'Meara finds a builder with an insurance policy that guarantees the on-site infrastructure will get built, the money in escrow is out of reach.
O'Meara said last week that he might announce the builder as soon as last Friday. However, on that Friday afternoon, he said negotiations with a possible builder were continuing.
O'Meara said he's being careful in naming a builder because he doesn't want a replay of the Kearney Estates "fiasco."
Running Horse has a city permit to begin work on the clubhouse foundation, but not on the structure. O'Meara said the original plan of a $15 million, 42,000-square-foot building has been scaled back to about 34,000 square feet and less than $10 million.
"Is it uncommon for a developer to run into cash-flow problems?" O'Meara said. Shaking his head no, he added, "It's been a monster."
He said a six-month stretch this year — during which several loans were approved, then killed — proved devastating. He had already told subcontractors to go ahead with work; when the loans failed, he couldn't pay them.
Said O'Meara: "I've said to quite a few suppliers: 'We're not going anywhere. We're going to pay you.'"
The two lawsuits show O'Meara and his partners twice almost sold part or all of the project in deals worth tens of millions of dollars.
According to court documents, Running Horse and another company, IRC/RH, signed an agreement in March 2005 to be partners in a new company called IREC-Fresno.
Running Horse and its partner were to be co-managing members of the new company.
The new company was to buy 536 lots at $65,000 each from Running Horse — $34.8 million.
Running Horse also was to name its partner as exclusive builder of homes in Cypress. Profits from the Cypress homes were to be split by the partners.
Then, in April 2005, Running Horse signed an agreement with Reynen & Bardis Communities Inc. to sell all 780 lots at $95,000 each — $74.1 million — to the Sacramento-based developer.
Reynen & Bardis sued Running Horse, alleging in part that Running Horse officials broke the agreement by asking it to pay more for the property than the two sides had originally agreed to.
Eric R. Garner, a lawyer in Sacramento for Reynen & Bardis, said the trial is scheduled to begin May 7.
IRC/RH sued Running Horse for breach of contract. The lawsuit was settled this year in what court documents called a "confidential conditional settlement."
But the question remains: Can a large master-planned community thrive in a southwest Fresno that has seen little new residential development for decades?
"In theory, it could be viable, but I think the price range for homes in that area has to be reasonable," said Steve Lutton, division president of Lennar Homes.
A major amenity such as a golf course helps, said Paula Conner, who sells luxury houses for London Properties. She just sold a house at San Joaquin Country Club for more than $1 million. It was on the market for only a few days, she said.
Ken Hopper, a real estate appraiser who helps value golf courses, said, "People will pay a premium to be on a golf course." But, he added, "Running Horse doesn't have the only game in town."
O'Meara and his partner Scott Webb are competing in a market that includes the homes and lots at Fort Washington, Copper River and Brighton Crest country clubs.
Fresno real estate analyst Robin Kane cautioned against making quick generalizations about Running Horse based on what could be the developer's temporary money woes. He said it often takes decades for large, master-planned communities to get their legs and succeed.
Deep pockets and a developer with staying power are vital, Kane said. But, he added, don't underestimate the power of a dream: "Having a vision is not enough. But having no vision will never get it done."
Kelley of the Fresno West Coalition for Economic Development said O'Meara already has helped raise the region's profile: "He came in with a vision. He got mocked and scoffed, but you have to give him credit for making things happen."
City Council Member Cynthia Sterling, who represents the Running Horse area, is confident another company will step in if O'Meara stumbles. The PGA tournament may have to be held elsewhere in 2007 but could be held in southwest Fresno the following year, she said.
One of the most pressing issues facing O'Meara is Kearney Estates. He acknowledges that his company is partly responsible for the project's problems.
O'Meara said he and Webb plan to spend millions of dollars to help finish the houses.
"If we walk away from that, we'll be like any other so-called builder running out of town," O'Meara said. "And that's not the way we're going to do that. For two reasons. One, it's not the right thing to do. The second thing is if we do that over there, can you imagine the damage it would have [on Running Horse]?"
The reporters can be reached at ghostetter@fresnobee.com, snax@fresnobee.com or (559) 441-6330.
Fresno Bee article :
http://www.fresnobee.com/263/story/8906.html