project description:
Rock & Roar (in development) is an artistically progressive website encouraging tiger and wolf conservation. Central to the project is the creation of an original series of animated spots and new media pieces hosted by Rock & Roar's "spokesperson", a lifelike tiger character capable of motion.
planned multimedia pieces include:
interviews with tiger character revealing tiger facts and "opinions" through wry and humorous responses

a spot which uses audio, text and graphics to present the word "tiger" in a multitude of languages

celebrity cameo appearances with conservation messages specific to Rock & Roar

educational and entertaining media pieces featuring the tiger character
These pieces will incorporate donated music samples and appearances from Los Lobos, INXS, R.E.M., Pretenders, Blondie, Bruce Cockburn, Dave Wakeling, Chris Whitley, Dave Alvin and John Doe, and may feature guest voice over narration by actor Julian Sands.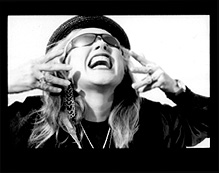 Deborah Harry